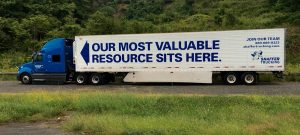 The majority of people on the roads pass HGV drivers every day and don't even know it or think about the process of becoming one. HGV or heavy good vehicle drivers are drivers who transport goods from the suppliers to the customers.
If you want to be an HGV driver, it is necessary to be over 18 years old, have a certificate of professional competence as well as have a driving license. There are also lots of companies that require employees who want to become HGV drivers to go through an apprenticeship or a particular training course. These may seem like just a couple of requirements, but they are needed for the safety of other motorists on the road as well as the driver.
Once you are considering this career, you need to understand what is expected of you in this job. There are many positive and negative factors of this job that have to be carefully thought about before a decision is made.
The Benefits of Being an HGV Driver
By getting experience, you can climb the ladder at your company
Stable job and good pay
Become very familiar with different parts of the country through driving and travelling
There are many great benefits of this job; however, there are a couple of negative things that should also be considered. Some of these are:
There will be many other drivers who will show animosity towards you
Dangers are associated with driving in adverse and hazardous weather
The job is not social
Skills Needed
So, once you want to become an HGV driver, there are a couple of skills that are necessary and they include:
Driving capabilities – you will need to have excellent knowledge of the road as well as road safety and safe driving practices.
Motivation – this job will require you to drive for many long hours, all by yourself. Therefore, you need to be self-motivated and not need to have a boss watching over your every move.
Paperwork – once you're not driving, you'll need to do a good deal of paperwork which would include details about every trip and delivery, etc.
Concentration – you'll need to be able to concentrate and focus while driving, especially in heavy traffic or bad weather. This is necessary to prevent any accidents.
Everyday Responsibilities
Even though driving would be the main task, there are other responsibilities which include:
Plan routes for delivery – all drivers are responsible for planning delivery routes so that productivity is maximised.
Co-ordination – drivers will need to coordinate with customers so that pickups and drop-offs are done in a timely fashion.
Supervising – drivers will have to supervise when goods are being loaded as well as offloaded.
Maintenance – if there is a problem with the vehicle, then the driver will need to ensure it is fixed and the vehicle is properly maintained.
Route checking – the driver needs to be able to change or alter routes if there are issues on the road such as traffic or an accident.
Customer interaction – drivers will need to interact with all customers and address any questions they may have in a polite fashion.
Safety – drivers will have to regularly inspect their vehicles to ensure it is in compliance with the national safety regulations.
HGV driving is a highly lucrative but underrated profession. However, it is not only a fantastic career but it also requires a great deal of responsibility. Once you're sure you want to become an HGV driver, then be sure to start the training process at HGV Driver Training Centre as soon as possible so that you can start this extremely fulfilling job.